JetBlue and American Airlines have partnered up to bring more flight options to passengers in Boston and New York.
According to JetBlue, the first phase of the partnership will bring customers choices with 80 codeshare flights, new routes, expanded schedules, and corresponding benefits through reward programs. JetBlue is the largest carrier in Logan International Airport.
"Our alliance with American opens the door for JetBlue to successfully enter into new markets, introducing more choices and our award-winning service and low fares to more customers," said Scott Laurence, head of revenue and planning for JetBlue, in a statement. "The alliance is also essential to getting our planes back in the air profitably and crewmembers working again."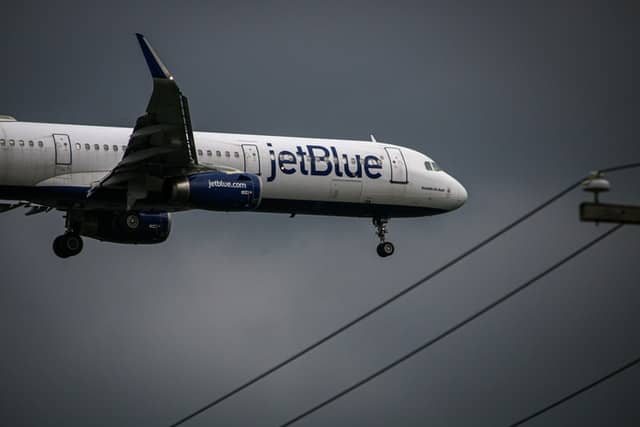 Photo by Matt Boucher on Unsplash
With codesharing, passengers will be able to book with their preferred airlines for flights operated by partner airlines. JetBlue customers now have 25 more routes on American Airlines while the latter airlines' customers have access to 49 routes on JetBlue. Currently, codeshare flights are available to and from Logan International Airport, New York's John F. Kennedy International Airport and LaGuardia Airport, and New Jersey's Newark Liberty International Airport.
The airlines will also be making more frequent flights on key routes at those airports this spring. 
In April, JetBlue will be offering more than six daily flights whale American Airlines will offer three daily flights between New York and Boston. Moreover, JetBlue will offer four new flights and American Airlines will offer up to seven daily flights from Boston to Washington, DC. 
American will also bring up to eight daily flights from Boston to these airports in Florida: Fort Lauderdale-Hollywood International Airport, Miami International Airport, and Palm Beach International Airport.
"Additional daily departures will be added in these markets during peak summer travel periods and beyond, further improving options for travelers," according to JetBlue.
According to JetBlue, this summer the carrier will offer additional flights between Boston and Los Angeles and Boston and Chicago. Additionally, winter seasonal service from JetBlue from Boston to Key West International Airport will expand to offer year-round service.
Both the carriers have collectively announced more than thirty routes, a few of which will bring more choices to customers in Massachusetts.  These are the following new domestic routes at Logan American Airlines is launching, most of which are seasonal. Columbus, Ohio beginning Aug. 17; Asheville, N.C. (June 5 to Nov. 6); Jackson Hole, Wyo. (June 5 to Sept. 4); Traverse City, Mich. (June 5 to Sept. 6); and Wilmington, N.C. (June 5 to Aug. 14). 
JetBlue will launch more than ten new routes from New York on July 1, which includes summer seasonal service between Newark and Nantucket, and Martha's Vineyard, and LaGuardia and Martha's Vineyard.
"This is the first step to delivering the best customer proposition with the biggest network in New York and Boston," Vasu Raja, chief revenue officer for American, said in a statement. "In the months ahead, we'll continue to create a seamless experience that's easy for our customers, supports our communities, and leads to more growth for our team."